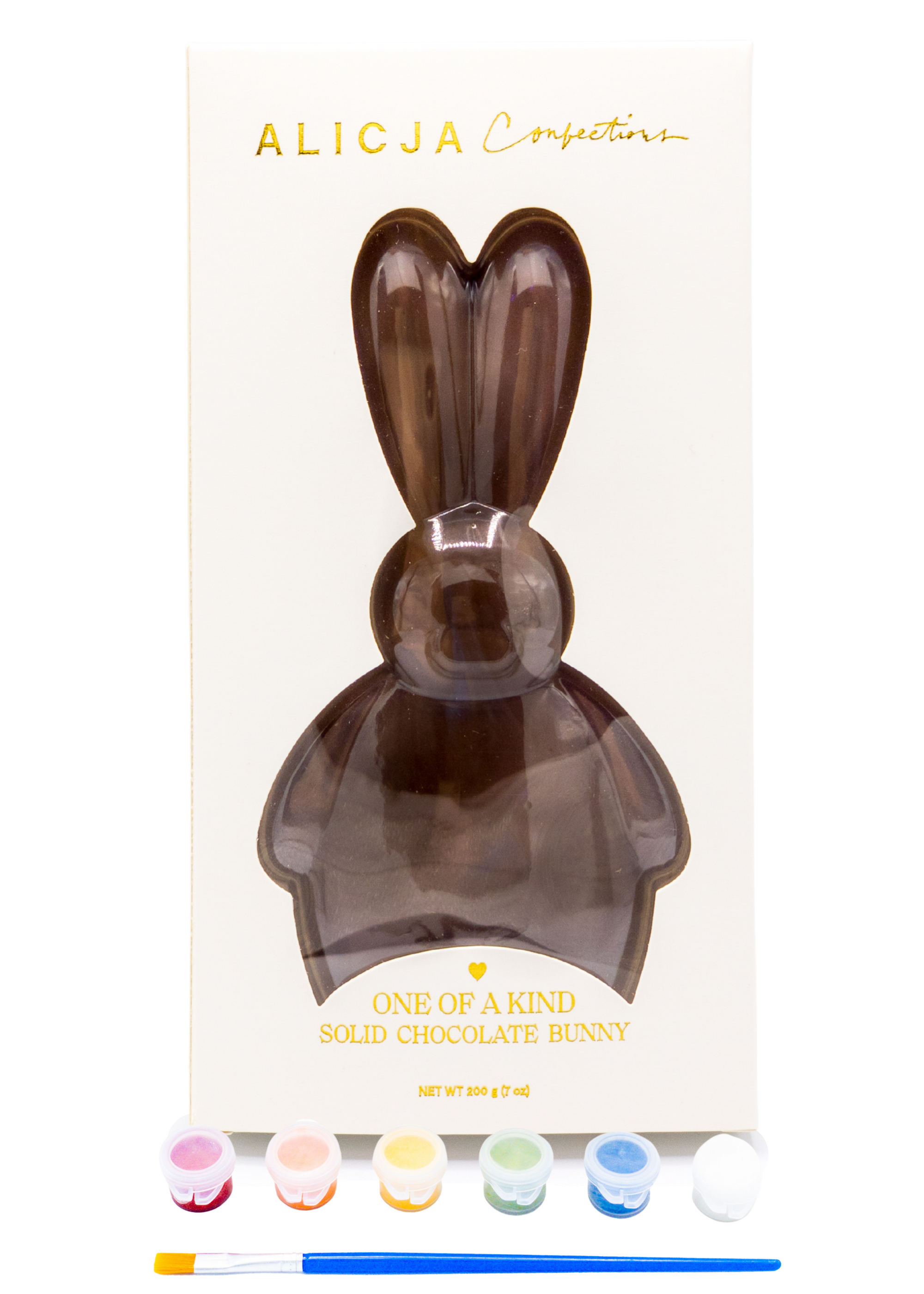 Chocolate Bunny Paint Kit • Milk Chocolate
Now available online & in-store. Exclusively in milk chocolate.
Wanna try your hand at painting your own chocolate bunny? Now's your chance! You'll receive a blank, milk chocolate bunny, a brush, and 6 edible cocoa butter colours to paint your masterpiece! Gift it, display it, hey, you could even eat it! We hope you enjoy and have fun :)
Use instructions: Place bunny in the fridge, out of it's packaging for 20 minutes before painting. Open all 6 paint pots and microwave in 20 second intervals until cocoa butter is almost completely melted. Use a paint brush or tooth pick to mix the cocoa butter to finish melting. Use paint brush to paint cocoa butter onto chocolate. Close paint pots once cocoa butter has hardened. 

DO NOT MICROWAVE PAINT BRUSH. FAILURE TO FOLLOW THESE INSTRUCTIONS WILL RESULT IN UNDESIRABLE EFFECTS. USE CAUTION WHEN HANDLING HOT ITEMS.
Gluten-free friendly.
200 g / 7 oz - Bunny is approx. 6 inches tall and 3.25 inches wide.
(EN) INGREDIENTS: 33.6% MILK CHOCOLATE (SUGAR, COCOA BUTTER, WHOLE MILK POWDER, COCOA MASS, SOY LECITHIN (AN EMULSIFIER), NATURAL VANILLA FLAVOUR).
(FR) INGRÉDIENTS: CHOCOLAT AU LAIT 33.6% (SUCRE, BEURRE DE CACAO, POUDRE DE LAIT ENTIER, PÂTE DE COCOA, LÉCITHINE DE SOJA (UN ÉMULSIFIANT), ARÔME NATUREL DE VANILLE).
All of our products are available online for world-wide shipping and local pick-up in Ottawa, Ontario. Need some more info? Check out our Shipping Policy.
Chocolate Care Instructions

Our bars, discs, and dragées are best eaten within 1 year of purchase. Store in a cool, dry place. Some people like to eat cold or frozen chocolate, but we recommend they be enjoyed at room temperature for best flavour. 

Our bonbons are made fresh and are best eaten within 10 days of purchase if stored at room temperature, or within one month if stored in the fridge. They are best enjoyed at room temperature, especially after a delicious meal.